Now What?
Now what?  Those were the words I wrote in my journal the day after coming back from the Women's Advance where I experienced a mighty move of God.  God confirmed His purpose for my life and I gave birth to something new, the gifts He placed in me where activated at a greater level.  I was overwhelmed by his presence, by His love for me.  I was on a high.  I was not the only one.  We were rebuked, and encouraged to let our flesh die so that we may walk in what God has called us to, so that we may produce.  We were cleansed, we were warned, we received prophetic words, and we praised.   The weekend is over, now what?  How do we walk in the revelations we received so that God gives us more?  How do we continue to put our flesh to death? How do we continue to allow the Lord to prune us? The answer is actually quite simple.  We have to make an active decision EVERYDAY to stay in God's presence.  We have to make bible study and prayer a daily priority.  We have to continue to abide so that we may produce.  Below is a study guide for John 15: 1-8 to encourage us to continue to abide in Jesus.  I am fully aware that not everyone reading this post attended the Advance this weekend but perhaps you have received some major breakthrough and you are wondering how to continue to walk in victory and submit to the pruning process.  I pray that this brief study blesses you as well.
Read John 15:1-8 and answer the questions below
Note: Do not attempt to answer all the questions in one sitting. It is recommended that you answer a few a day to ensure that you are really "studying" the scriptures. If you would like, make a phone date with another sister to review your answers.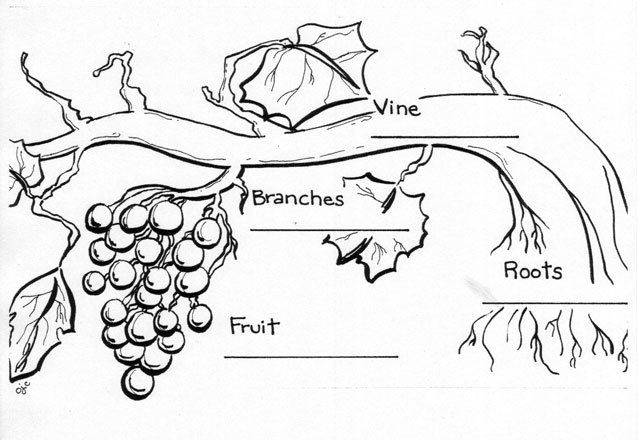 Photo credit: http://www.drastudio.com/past/2006/02/25/he-is-the-vine/
1.  Who is the vine? (vs.1)
2. Who is the gardener? (vs. 1)
3.  What does Jesus mean when He says the gardener will cut off every branch that does not produce fruit? (vs.2)
4.  What does it mean to prune?
5.  What is the purpose of pruning? (vs. 2)
6.  Have you ever been pruned before? How has God used being a wife and a mother to prune you? Be specific.
7.  Does being pruned feel good? Why or why not?
8. What dead things is He trying to remove from your life?
9.  Are you allowing Him to prune you, or are you resisting?
10.  What kind of fruit does God want us to produce? (Hint: Galatians 5:22-23). Take some time to define what each fruit means (this does not have to be done in one sitting, can take a few days to do this). Write down ways that you are producing each fruit as 1. A wife 2. A mother.
11.  What greater fruitfulness is God trying to produce in you? (vs. 3) If you don't know, spend some time in prayer and ask Him, be still long enough to hear Him answer. Grab a pen and paper to write down His response.
12.  What does remaining in God look like? (vs. 4) If you are having difficulty answering this question visit the site address listed below to help. Write the answer in your own words.
http://www.gotquestions.org/abide-in-Christ.html
13.  Do you believe that you cannot do anything apart from Christ (vs. 5)? Does your actions support this? In other words, are you constantly trying to control situations, your life, thinking you can do it all by yourself or do you rely on Christ? Give examples to support your answer.
14.  What does vs. 6 really mean? How do the following scriptures support your answer? (Mathew 3:10, Revelations 20:15, Revelations 21:8)
15.  What is verse 7 saying, write its meaning in your own words? How does believing this change the way you pray?
16.  Are you a true disciple of Jesus, how do your actions support your answer? (vs. 8)
17.  What is the purpose of Jesus' disciple producing fruit, is it for ourselves? (vs .8)
Be blessed!
Anika
About the Author
Hello there! I am Anika and I am definitely one of those. Passion oozes from every fiber of my being. I love to love. Sounds cheesy, I know, but I already told you that I am one of those kinds of people. Read on to find out some more interesting facts about me… 1. I love me some Jesus. I love to testify and if you hang around me long enough you may hear me bragging on the awesomeness of God, like how • He gave me a house I couldn't afford • Healed two of my children • Gave me a yes when I wanted to say no 2. I married a younger man…OK, not really. I was 23 while he was 22. My birthday is in April and his in August, but it's our running joke. Nevertheless, after 13 years of marriage, I happen to love him deeply, and it still makes for a great story. 3. I have experienced the pain of two miscarriages and the joy of delivering 6 children (3 boys and 3 girls). I have both a bachelors and masters degree from the University of Illinois Urbana-Champaign in Early Childhood Education, which I put to good use staying home with the kiddos. 4. I attend an awesome church where my husband is the Assistant Pastor. I am also a part of a not for profit organization that encourages women to walk in their God given purpose. 5. I am addicted to prayer. 6. I am considered nice by most, definitely extreme by design. I am politically incorrect. 7. I take the scenic route when telling a story, but I promise if you hang on long enough, I eventually get to the punch line. 8. I have great ideas but I sometimes procrastinate. Jesus and I are working on that one. 9. I am guilty of overthinking things (refer to number 8). 10. I am originally from Jamaica. Surprise…sunshine and coconuts are two of my favorite things. 11. I subscribe to the Paleo Diet and actually did a round of Whole 30. 12. I love to experiment in the kitchen. 13. I make an absolute mess when I cook. I try to clean as I go but get distracted with cooking. Go figure. (My family doesn't always enjoy my cooking but I make them eat it anyway.) 14. I love people and enjoy talking to them—even the weird ones. I tried being otherwise but found it doesn't suit me well, so I'm learning to be okay with being me. 15. I have traction alopecia and wear wigs and am crazy enough to believe God for restoring my hair follicles even though the doctors have said otherwise. 16. A movie is considered good only if it makes me cry...more than once. Sound of Music happens to be my all time favorite. 17. I really wish I sang well. I really don't. 18. Telling people about Jesus is my favorite past time. And if I'm not talking about Him, I'm talking about my family or some random health fact I learned on Google. 19. I love redemption stories and happy endings, that's why I said yes to Jesus. Feel like you know me a little more? Well good! Please continue to stop by my little corner of cyber world. And do leave a comment. Remember I love to talk to people!