Bacon, Egg, and Shrimp Salad
I know a friend who chose the salad over the bag of chips.  An hour later, she was hungry and reached for the same bag of chips she avoided earlier.  So much for eating healthy.  Are you familiar with this scenario?  Salads are nutritious and can be filling if we combine them with good fats and protein.
This bacon, egg, and shrimp salad is not only nutritious but it is very satisfying and filling.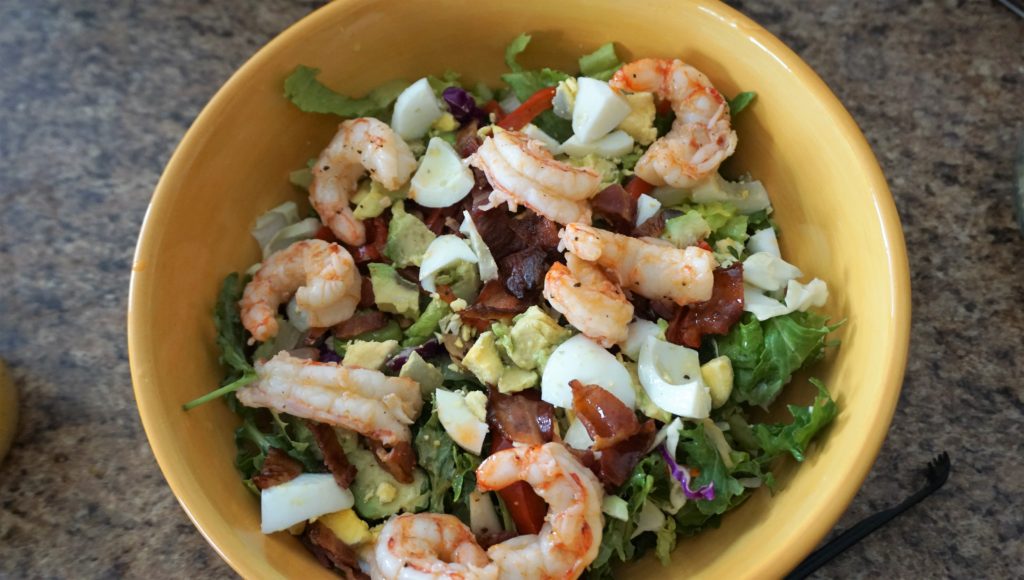 The six cute faces you see below, gobble this thing down and always ask for seconds.
Click on this video to see a demonstration of how it is made.  It really is a very simple salad.  Below are the ingredients.  If you decide to try it, come back and let me know how you liked it.
Bacon, Egg & Shrimp Salad
Ingredients:
Romaine lettuce
Baby Kale
Shredded cabbage
Celery
Avocado
Mushroom
Red bell pepper
Cooked shrimp
Cooked crumbled bacon
Chopped hard-boiled eggs
Directions
Wash and chop and combine all the veggies except for the bell pepper and mushroom
Saute bell pepper and mushroom in cooking fat of choice for 10 minutes
Once the bell pepper and mushroom is cooked, combine it with the other vegetables.
Top vegetables with bacon, eggs, and shrimp
Drizzle with salad dressing of choice
Enjoy!
About the Author
Anika Jones is a speaker and author of the book Lessons Learned Along The Way: A 40 Day Devotional. She blogs about faith and family at LivingForLater.com and posts weekly videos on her YouTube channels, Living For Later (@livingforlater) and Living Life Now (@livinglifenow). Anika loves speaking about developing intimacy with God and understanding who we are in Christ. She serves alongside her husband in ministry. They live in Illinois with their 6 children.