Now What?
Now what?  Those were the words I wrote in my journal the day after coming back from the Women's Advance where I experienced a mighty move of God.  God confirmed His purpose for my life and I gave birth to something new, the gifts He placed in me where activated at a greater level.  I was overwhelmed by his presence, by His love for me.  I was on a high.  I was not the only one.  We were rebuked, and encouraged to let our flesh die so that we may walk in what God has called us to, so that we may produce.  We were cleansed, we were warned, we received prophetic words, and we praised.   The weekend is over, now what?  How do we walk in the revelations we received so that God gives us more?  How do we continue to put our flesh to death? How do we continue to allow the Lord to prune us? The answer is actually quite simple.  We have to make an active decision EVERYDAY to stay in God's presence.  We have to make bible study and prayer a daily priority.  We have to continue to abide so that we may produce.  Below is a study guide for John 15: 1-8 to encourage us to continue to abide in Jesus.  I am fully aware that not everyone reading this post attended the Advance this weekend but perhaps you have received some major breakthrough and you are wondering how to continue to walk in victory and submit to the pruning process.  I pray that this brief study blesses you as well.
Read John 15:1-8 and answer the questions below
Note: Do not attempt to answer all the questions in one sitting. It is recommended that you answer a few a day to ensure that you are really "studying" the scriptures. If you would like, make a phone date with another sister to review your answers.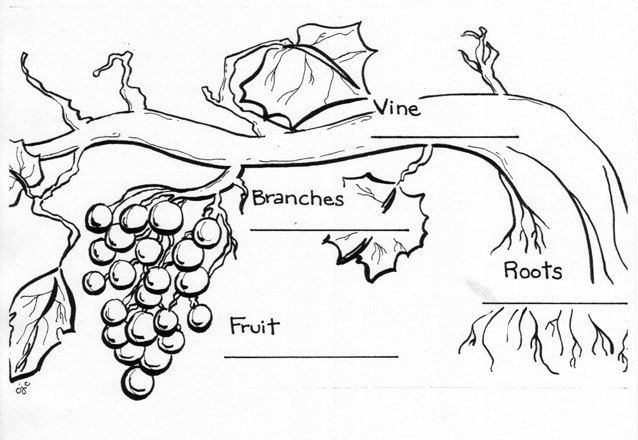 Photo credit: http://www.drastudio.com/past/2006/02/25/he-is-the-vine/
1.  Who is the vine? (vs.1)
2. Who is the gardener? (vs. 1)
3.  What does Jesus mean when He says the gardener will cut off every branch that does not produce fruit? (vs.2)
4.  What does it mean to prune?
5.  What is the purpose of pruning? (vs. 2)
6.  Have you ever been pruned before? How has God used being a wife and a mother to prune you? Be specific.
7.  Does being pruned feel good? Why or why not?
8. What dead things is He trying to remove from your life?
9.  Are you allowing Him to prune you, or are you resisting?
10.  What kind of fruit does God want us to produce? (Hint: Galatians 5:22-23). Take some time to define what each fruit means (this does not have to be done in one sitting, can take a few days to do this). Write down ways that you are producing each fruit as 1. A wife 2. A mother.
11.  What greater fruitfulness is God trying to produce in you? (vs. 3) If you don't know, spend some time in prayer and ask Him, be still long enough to hear Him answer. Grab a pen and paper to write down His response.
12.  What does remaining in God look like? (vs. 4) If you are having difficulty answering this question visit the site address listed below to help. Write the answer in your own words.
http://www.gotquestions.org/abide-in-Christ.html
13.  Do you believe that you cannot do anything apart from Christ (vs. 5)? Does your actions support this? In other words, are you constantly trying to control situations, your life, thinking you can do it all by yourself or do you rely on Christ? Give examples to support your answer.
14.  What does vs. 6 really mean? How do the following scriptures support your answer? (Mathew 3:10, Revelations 20:15, Revelations 21:8)
15.  What is verse 7 saying, write its meaning in your own words? How does believing this change the way you pray?
16.  Are you a true disciple of Jesus, how do your actions support your answer? (vs. 8)
17.  What is the purpose of Jesus' disciple producing fruit, is it for ourselves? (vs .8)
Be blessed!
Anika
About the Author
Anika Jones is a speaker and author of the book Lessons Learned Along The Way: A 40 Day Devotional. She blogs about faith and family at LivingForLater.com and posts weekly videos on her YouTube channels, Living For Later (@livingforlater) and Living Life Now (@livinglifenow). Anika loves speaking about developing intimacy with God and understanding who we are in Christ. She serves alongside her husband in ministry. They live in Illinois with their 6 children.